In January we're looking to bundle all of this together into a blogpost much like the November one, but here's a quick summary of some things we've recently put out just to keep you all in the loop.
New focus dashboard layout - the main way you interact with Focus creation, backup etc. has been updated a bit (this is from a private window so is a starting from 0 setup) with Templates put down the bottom, and what we think is a bit more of a navigable setup. On top of this, it allows for the adding of more Mojeek Templates at the bottom without messing around with the UI - this is something we're looking to do in the New Year.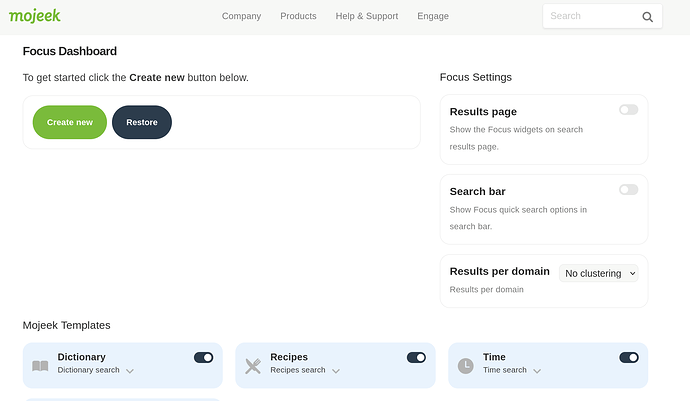 Precise location improvement - if you're using Mojeek to set your location, and therefore affect the results you're seeing, the Precise option, which interacts with your browser, has been updated. So getting from image 1 (broad) to image 2 (precise, in my case ) should be better.


Calculator improvement - we discovered that this wasn't triggering with parentheses, such as in the case of 5/(5+5) and a fix for this has now been pushed.

Conversion box improvement - before this wasn't consistently pulling through values, so now if you do a search like 1 ounce to grams the conversion fields are now populated with the value within the query.
As with all of these, if you see something amiss then please let us know